Corona Test Center
Frankfurt
&
Friedrichsdorf
Two FFP2 masks for free with every test!
***Omicron detection***
High-quality, virus-filtering air cleaner in every room and in every test booth!
We DO NOT test in tents, barracks, on parking lots or sidewalks but in clean, hygienic shop areas in compliance with all infection protection, medical product and occupational safety regulations
Available tests:
Corona antigen rapid tests (optional):

Saliva test (for children and adults)
Nasal swab test (anterior nasal swab)
Throat swab test (mouth or deep nose swab)
Lollipop test

PCR test (laboratory test):
Long opening hours 7 days a week

Short term booking possible
With or without an appointment (previous online registration with approximate arrival time desired, you can also come with an appointment at any time)
Test result after 15-20 minutes by email or printed out (antigen rapid test)
Connection with the Corona-Warn-App and Luca App
Medically trained professionals
Please do not eat, drink, smoke or chew gum 15 minutes before the test (1 hour for a saliva test)
According to the Paul Ehrlich Institute (PEI), our antigen tests (Longsee, BfArM number: AT731/21) are the best antigen tests on the German market, are characterized by 100% sensitivity for both high and low viral loads and are therefore comparable with the PCR tests. In comparison, the sensitivity of the commercially available tests (Clungene, Lepu, Safecare, Hotgen) with a low viral load (shortly after infection) is a smooth 0%.
Source: https://www.pei.de/SharedDocs/Downloads/DE/newsroom/dossiers/evaluierung-sensitivitaet-sars-cov-2-antigentests.pdf?__blob=publicationFile
Validity of the tests:
Antigen test: usually 24 hours within Germany and 48 hours when traveling abroad
PCR test: usually 24-72 hours from sample collection (depending on destination country)
Prices:
Free citizen test (vulnerable groups) - (antigen rapid test) - 0€
Citizen test with own participation with cause - (antigen rapid test) - 3,00€
Rapid antigen test - self-payer - 9,99€
Free rapid antigen test according to §§2, 3, 4 TestV - Contact persons, returnees from virus variant areas, employees of nursing and health facilities, old people's homes, etc. (facilities according to §4 TestV) - 0€
PCR test - (travel PCR test) - 59,90€ (test result in 99% of cases the next day by 12:00 p.m.)
Free PCR test (post-PCR test) - only after a positive quick test in our test station - 0€ (test result after 24-36 hours)
Online payment (PayPal, credit card, Klarna Sofortüberweisung, Apple Pay, Giropay and many more) or on site (cash, EC or credit card)
LOCATIONS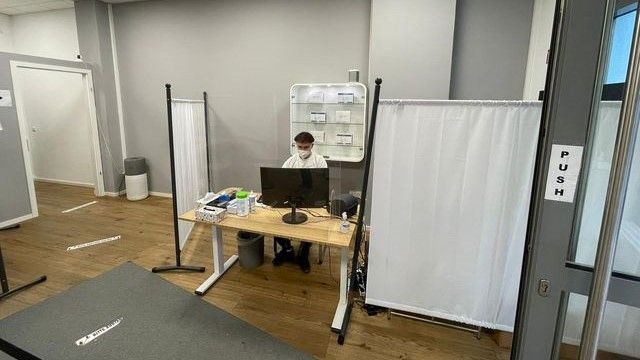 CORONA TEST CENTER

FRANKFURT BOCKENHEIM

Wildunger Str. 1b

60487 Frankfurt am Main

(300m from the Bockenheimer Warte)
Opening hours:
Mon-Fri: 7:00-20:00
Sat-Sun, holidays: 8:00-20:00
Contact:
Tel test station:
+49 1521 9496 375
Tel CEO:
+49 1515 111 5555
Email:
frankfurt@safetyfirstgermany.de
Website:
www.safetyfirstgermany.de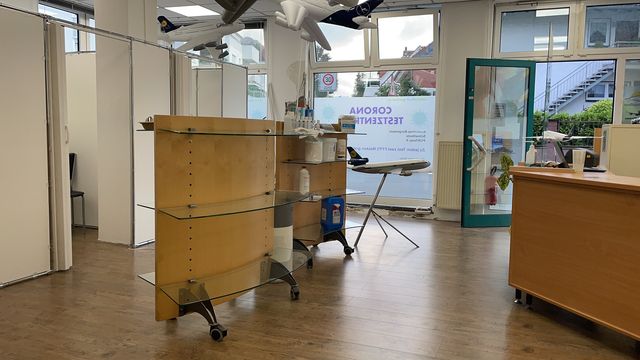 CORONA TEST CENTER

FRIEDRICHSDORF

Bahnstraße 42-46

61381 Friedrichsdorf
New opening hours:
Mon-Fri: 8:00-19:00
Sat-Sun, holidays: 9:00-19:00
Contact:
Tel test station:
06172 6889250
Tel CEO:
+49 1515 111 5555
Email:
friedrichsdorf@safetyfirstgermany.de
Website:
www.safetyfirstgermany.de
COVID-19 TEST
The procedure
Book a corona test
You book an online appointment for a corona test with an approximate time when you will arrive. We will send you a confirmation email with a QR code.
Get tested
You appear at our test center with your ID or health insurance card. We take the swab by medically trained specialists.
Get result
We will evaluate your corona test immediately and you will receive your digital test result by email. If you wish, we can print out your test result.